Employee 

Activists 

Spark 

a 

New 

Social 

Movement 

in 

the 

Digital 

Age, 

According 

to 

Groundbreaking 

Global 

Study 

from 

Weber 

Shandwick 
NEW YORK, April 2, 2014 – A new, groundbreaking study conducted by leading global public relations firm Weber Shandwick reveals a rising social movement ignited by the digital and social media era – employee activism. Employee activists draw visibility to their workplace, defend their employers from criticism and act as advocates, both online and off. One in five employees (21 percent) is estimated to be an employee activist, and another 33 percent have high potential to be employee activists. As the movement grows at an increasing speed, employers have an enormous opportunity to engage and capitalize on these powerful advocates, or risk missing out on an important group of supporters and, at worst, fail to curtail detractors who have the potential to upend company reputations.
"The employee activist movement should not be underestimated," said Micho Spring, Weber Shandwick's Global Corporate practice chair. "Identifying and activating employees willing to rise to levels of extraordinary support for their organizations should certainly be an important priority for CEOs."
Weber Shandwick partnered with KRC Research to conduct Employees Rising: Seizing the Opportunity in Employee Activism. Through an online survey of 2,300 employees covering 15 markets worldwide, the study explores the employee activist movement to help organizations understand what it takes to catch the rising tide of employee activism.
Social Media Ignites Employee Activism
As business leaders know, the impact of social media on an employer's reputation is now an everyday reality. What some employers don't fully realize is how critical social media is to employee engagement and how it fuels employee activism. Here are some eye-opening facts from employees in the study:
50% post messages, pictures or videos in social media about their employer
39% have shared praise or positive comments online about their employer
33% post messages, pictures or videos in social media about their employer without any encouragement from the employer
16% have shared criticism or negative comments online about their employer
14% have posted something about their employer in social media that they regret
Some Employers Have Joined the Movement
Our survey found that one-third of employers – 33 percent – encourage their employees to use social media to share news and information about the organization. Social encouragement has an outsized impact on employer advocacy among employees. For example, employees with socially-encouraging employers are significantly more likely to help boost sales than employees whose employers aren't socially encouraging (72 percent vs. 48 percent, respectively). The report provides many examples of the benefits of encouraging employees to "socialize their employer brands" and the simple ways in which employers are doing so.
Unrest in the Workforce
To understand the roots of this movement, it is important to recognize the challenges facing employees today. There is significant upheaval in the workforce due to:
Pervasive organizational changes. More than eight in 10 employees (84 percent) have recently experienced an employer change such as a leadership turnover, extensive lay-offs, merger/acquisition, financial slowdown, etc.
Ineffective internal communications. Only four in 10 employees can describe to others what their employer does (42 percent) or what its goals are (37 percent).
Weak employee engagement. Only 30 percent of employees are deeply engaged with their employer. This low level of engagement is not surprising given the acceleration of change combined with poor communications.
Employees are on the defense and often serve as "first responders." Nearly six in 10 respondents (56 percent) surveyed have either defended their employer to family and friends or in a more public venue — such as on a website, blog, or in a newspaper.
The Weber Shandwick Workforce Activism Spectrum™
Using segmentation modeling, all survey respondents are sorted by their reported actions toward their employers – both supporting and detracting. The Weber Shandwick Workforce Activism Spectrum™ model identifies six distinct segments of employees.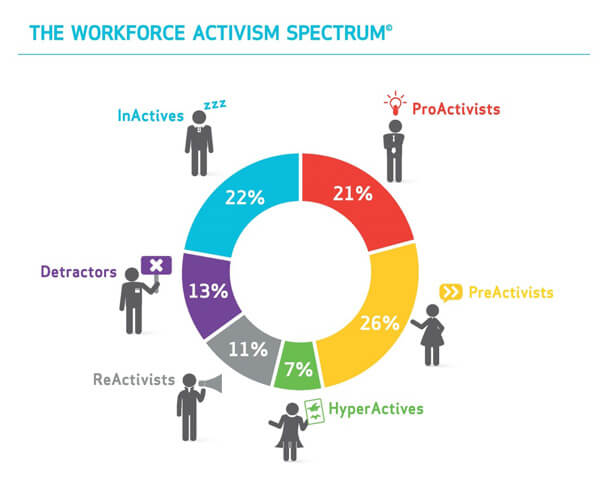 The report includes an Employee Activism Tip Sheet, prescribing strategy and underlying tactics for launching an employee activist program for each of the six segments of employee activists. Weber Shandwick has also developed a tool that classifies an organization's employees into these six segments based on five easy-to-answer questions.
The Internet and social media are game-changers for employee communications, giving employees an amplified voice. The opportunity for organizations is to harness the exuberance of those employees who see it as their responsibility to be reputation advocates.
Leslie Gaines-Ross,
Chief Reputation Strategist at Weber Shandwick
Please view the Employees Rising: Seizing the Opportunity in Employee Activism report and infographic here.
About Weber Shandwick
Weber Shandwick is a leading global public relations firm with offices in 81 countries. The firm's diverse team of thinkers, strategists, analysts, producers, designers, developers and campaign activators has won the most prestigious awards in the world for innovative, creative approaches and impactful work, including being honored as a 2014 Ad Age A-List Agency and winning four 2013 Cannes Lions. Weber Shandwick was also named PRWeek's International Consultancy of the Year and The Holmes Report's Best Healthcare Consultancy in the World in 2013, in addition to earning numerous best place to work accolades. The firm deploys deep expertise across sectors and specialty areas, including consumer marketing, corporate reputation, healthcare, technology, public affairs, financial services, corporate social responsibility, financial communications and crisis management, using proprietary social, digital and analytics methodologies. Weber Shandwick is part of the Interpublic Group (NYSE: IPG). For more information, visit https://www.webershandwick.com/.
About KRC Research
KRC Research is a full-service market research firm that specializes in the kind of research needed for effective communications—communications that reach, engage and persuade. A unit of the Interpublic Group of Companies (NYSE: IPG), KRC Research offers the quality and custom service of a small firm along with the reach of a global organization. For over 30 years, KRC Research has worked on behalf of corporations, governments, not-for-profits and the communications firms that represent them. Staffed with market research professionals from the worlds of political campaigns, consumer marketing, journalism and academia, we are flexible, practical, creative, knowledgeable and fast, combining sophisticated research tools with real-world communications experience. For more information, visit www.krcresearch.com.