Weber 

Shandwick 

Named 

a 

Best 

Place 

to 

Work 

by 

PRWeek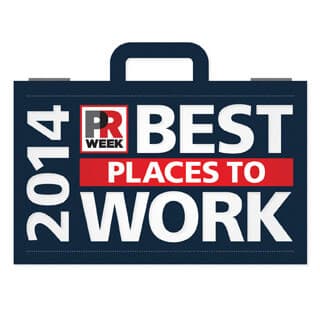 Weber Shandwick today was named a 2014 PRWeek Best Place to Work – Large Agency for the second year in a row. The honor is based on the results of an employee survey focusing on pay and benefits, employee advancement and development opportunities, work-life balance, internal communications, and more.
In awarding the firm this honor, PRWeek pointed to "the sense of teamwork and support that carries through the staff at Weber Shandwick" and noted that employees describe their firm as "empowering, creative, energizing, entrepreneurial, and well-managed." The publication also praised Weber Shandwick for a diverse and inclusive workplace and recognizing staff for a job well done.
The PRWeek distinction comes on the heels of Weber Shandwick being named to Advertising Age's Best Places to Work in 2014. The firm ranked among the top 10 percent of all participants in the categories of "Diversity and Work-Life Balance" and "Special Perks" and was commended for its "fun" culture and global immersion opportunities for employees. Earlier this year, Weber Shandwick was also named a Top Place to Work in PR by PR News.
Weber Shandwick offers a variety of practices that encourage employee engagement and collaboration, global acculturation, diversity and inclusion as well as a family-friendly and healthy work environment. Its 10×10 program sends 10 high-performers from 10 global offices to different regions to meet and work in global teams, learn about the firm's global culture, and share best practices. Weber Shandwick's signature No Boundaries program offers selected participants a stipend and an extra paid week off to experience a new activity that enriches them both personally and professionally.
The firm's internal "Making A Difference" awards program celebrates extraordinary pro bono work done by individual colleagues, teams and offices around the world each year. To promote diverse perspectives and inclusion in the workplace, Weber Shandwick actively supports Interpublic's Women's Leadership Network as well as its Multicultural Employee Resource Groups for Excellence (MERGE), which includes affinity groups for employees who identify as women, black, Hispanic, Asian or LGBT.